Your private information can be found all over your Chicago home or office, not just in the places you would expect. Paper files certainly contain information about you, your finances, medical history, and much more. But your electronics also carry sensitive information. Your hard drives maintain an imprint of your private information regarding you, your family, and your business. They need to be totally destroyed before they leave your possession.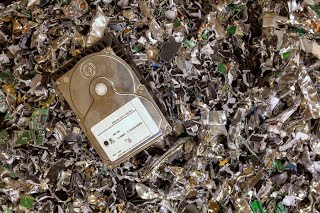 This is a requirement for compliance with privacy laws including HIPAA. Just deleting your files is not sufficient to destroy the information. It can be easily recovered with free software. To be sure the information is destroyed there is no better way than to physically destroy the hard drive. Hard drive destruction can be done on site or at a Chicago Paper Shredding partner's secure plant. The pieces of your hardware are melted down and they recycle electronic bits and pieces. This is absolute destruction.
As our world becomes more electronic and businesses rely more and more on technology, don't forget about all of the hidden hard drives in your office. Copy machines and fax machines also have hard drives that must be shredded before they are recycled. These store digital images of what has been scanned, and those images can be recovered. Therefore, it is critical to ensure all electronic information is secure through proper destruction services.
Additionally, keep services environmentally friendly—always use a service that offers electronic recycling for your hard drives and media once they've been destroyed. This will be compliant with EPA regulations as well as state hazardous waste requirements.
Get Free Quotes on Hard Drive Destruction and Electronic Recycling Services in Chicago and Cook County Today!
Keeping your information safe by destroying before you throw it away is the key to avoiding fraud and identity theft. Chicago Paper Shredding will help make sure your information is destroyed beyond a doubt. Give us a call at (773) 922-1493 or fill out the form to receive free quotes today.