Keep it safe and green at your Chicago based business. In the information security age, many companies are ramping up their security standards. From training employees about online security threats to shredding retired documents and electronics, keeping private information safe has moved to the forefront of the public's mind.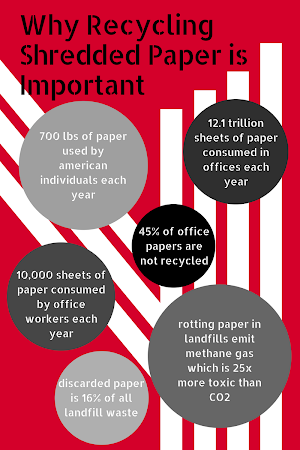 While security is a number one priority, it's important to remember to ensure your means are responsible. Shredded materials, paper or digital, can be recycled once they've been thoroughly destroyed. In fact, recycling the destroyed materials adds another layer of security to your destruction process.
Electronics Recycling Near Me
Electronics like hard drives, CDs, USBs, cell phones, and more contain records of private information. Wiping these devices clean is not enough to ensure your information is protected.
Instead use an electronic destruction and recycling company. These companies will completely dismantle and destroy your electronics and then recycle the component parts.
Paper Recycling in Chicago
Recycling shredded paper is an excellent way to keep your information safe while reducing your impact on the environment. Unfortunately residential recycling programs typically don't accept shredded paper bits—recycling shredded paper can only be done when you use a shredding service provider.
Shredding service providers accumulate large enough volumes of shredded paper that they can bag or bale large, more manageable quantities that recycling facilities accept.
Keep it Green and Safe with Chicago Paper Shredding
Rather than give up on protecting your private information in an effort to help the environment, enjoy the best of both worlds. Don't sacrifice safety for the environment when you can shred and recycle your private materials. Call Chicago Paper Shredding at (773) 922-1493 or fill out the form on the left to be connected to local paper and electronics recycling and shredding companies.